RESEARCH PAPER: EFFECT OF HK FILM ON ASIAN IMAGE
The motion picture industry holds a powerful influence on modern society. It helps to create and present images including those of Asians and Asian Americans in the United States. The American public is exposed to various characters but also stereotypes through the creative minds of the directors, writers and actors. Due to the current migration of Hong Kong action cinema, perceptions of Asian Americans have undergone a vast change. The two most influential people in this Asian "invasion" are director John Woo and actor Chow Yun Fat.
Action auteur John Woo (Fig. 1) was once proclaimed as the "New King of Comedy1 A peculiar title, given his current international fame as an action director. Born in Guangzhou, China in 1946, he migrated with his family to Hong Kong at the age of four. He spent most of his childhood at the local cinemas absorbing commercially successful Hollywood films as well as films by Jean-Pierre, Melville or Akira Kurosawa.2
Woo began as an apprentice at the Shaw Brother Studios' in Canton before being promoted to assistant director in the early 1970s.3 He was then known for his ability to intricately stage action material, particularly in humorous situations. In 1973, he became a full-fledged movie director and made his first movie, The Young Dragons. Then in 1976 he directed the superior Golden Harvest "chop socky" "Hand of Death", starring a young Jackie Chan.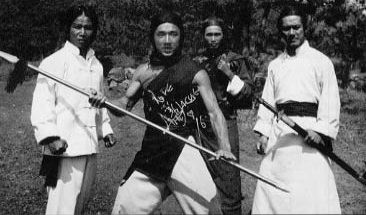 During the early course of his career, Woo did not move from film to film trying to achieve instant monetary success. By researching thrillers such as Melville's Le Samourai and Clouzot's The Wage of Fear, he began to set the ground work for his three greatest Hong Kong films: A Better Tomorrow, The Killer, and Hard-Boiled.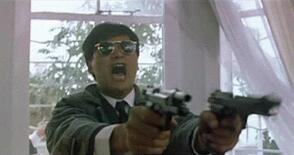 What is the Mark Gor look? (Fig. 3) The protagonist of A Better Tomorrow donned long coat, sunglasses, and a match stick in his teeth. The movie begins with Ho, the noble gangster, and Mark conducting a counterfeit cash business. Ho has a younger brother who is just graduating from the police academy in Taiwan. Ho is jailed and Mark is crippled trying to get revenge. The younger brother is resentful of Ho's criminal past, but at the end Mark sacrifices himself to bring the brothers back again.4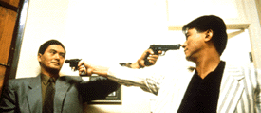 In The Killer (Fig. 4) , the noble assassin, Jeff, is seeking to retire from the underworld life. However, he must undergo one last mission. In the process of his final mission he blinds a singer, and beset with guilt he takes her under his protection. During the course of the movie Jeff is pursed by a cop determined to take him out. In the climatic battle scene, Jeff becomes partners by fate with the cop and they both battle the Mafia.5
While A Better Tomorrow and The Killer were seen to glorify gangsters, John Woo decided to make the movie Hard-Boiled (Fig. 5) as a creative solution to that issue. "In (my film) Hard-Boiled, both the lead characters are cops,"he said at that time, "so I am hoping that this will encourage kids to become policemen!"6 Illegal gun manufacturing, undercover agents, and honor among thieves make up the story of Hard Boiled. Detective Tequila's partner Lionheart is slain in a teahouse battle. Tequila then swears revenge on Johnny, the gangster responsible for Lionheart's death. To complicate things, there is a undercover cop Tony. Tony has been underground for so long that he is beginning to feel conflicting loyalties. Tony allies himself with Johnny's crew and is nearly killed by a vengeful Tequila. Eventually Tony's true identity is revealed to Tequila and they both stop Johnny before he destroys a hospital.7
John Woo establishes his own personal filmmaking with these three films. There are themes of chivalry and honor in the modern world. In A Better Tomorrow, it was honor among brothers. In The Killer, it was honor among assassins. In Hard-Boiled it was honor among men. In the three films, the main conflict was create by the platonic relationship between two men. This relationship is John Woo's signature theme. These characters in Woo's films are presented with complex moral choices. In a sense, these characters are tested, floating from the gray areas of what is right and what is wrong.
Cinematically John Woo pioneered a new visceral style of action cinema. Multiple cameras shooting all simultaneously, free frames, slow motion. These techniques along with meticulously choreographed action sequences, created a heart-pounding, edge of the seat action. Woo's liberal use of bullets and gunplay is offensive to many, but in his world, guns never need to be reloaded. When viewing Woo's movies, the violence seems excessive and gratuitous. Violence is an abstract expression in his films, a vehicle used to show the ballet-like qualities of his dream world. The characters in John Woo's films are his modern day version of knights engaged in battle, with guns for replacements for swords.
In the 1993 John Woo brought his innovative style of filmmaking to America. He accepted an offer from Universal to direct movie starring Jean-Claude Van Damme. The movie Hard Target was loosely based on the classic thriller the Most Dangerous Game. Set in New Orleans, criminal mastermind Fouchon and his sidekick Van Cleaf lead a cartel that provides bored hunters the ultimate prey, human targets.8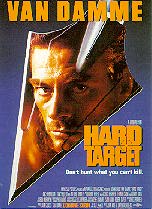 Despite John Woo's impressive body of work and mega international reputation, Universal held doubts that a Chinese director had the skills to handle an American crew. The studio insisted that an American producer to overlook the production, and if needed, take over the directing of the film. The American producer, Sam Raimi was delighted to be paid to watch the maestro at work, " Woo at seventy percent is going to blow away most away most American action directors working at one hundred percent!"9
Hard Target was a good entry film for John Woo. He was, in essence, testing his ability to translate his particular style of directing to Hollywood. The end product was a decent action film, mainly powered by Woo's signature action scenes and the film's most intriguing characters, the villains. It was these elements that managed to make Hard Target succeed, even though hampered by the less than stellar acting by the "thespian" Van Damme. Now Woo had a good grasp of Hollywood and everyone was waiting for his next production.
John Woo's second U.S. film was Broken Arrow. It featured American stars John Travolta and Christian Slater. The plot revolves around the theft of a nuclear missile by Travolta's character Deakins. Deakins steals the warhead into order to extort the U.S. government. The only man in his way is co-pilot Hale, played by Slater. Deakins leads Hale on a fast paced chase around the U.S. southwest.
"Broken Arrow is a movie that encompasses many elements," noted John Woo." One moment it is full of energy and suspense and the next it becomes fun and full of charm. It has its own character...excitement, humor and most of all an element of friendship and loyalty. Things that really touch people."10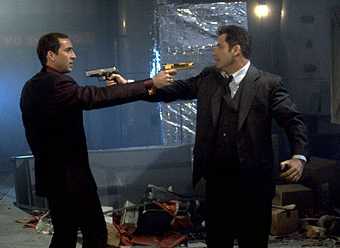 Face Off (Fig. 6) is John Woo's most recent film. FBI agent Sean Archer goes undercover to get information about a possible bomb that is going to level Los Angeles. Archer has to assume the identity of his nemesis Castor Troy, through a surgical process. However, Troy recovers and then takes the identity of Archer. This mix up results in complete reversal of situations for the two men.
With these six films, three from Hong Kong and three from the U.S., John Woo established his unique filmmaking style. The key elements that exemplify his style are highly choreographed shoot out scenes. Once again many signature John Woo trademarks seen in his Hong Kong films were seen on the American screens. Twin automatic shoot-outs, such as in Hard Target. Tense standoffs in Face Off. High speed pacing of action in Broken Arrow. With large production budgets and the availability of high tech effects not found in Hong Kong film, Woo's Hollywood films are much more explosive and exciting.
John Woo has made a great impact on the image of Asians and Asian Americans. Through the powerful medium of motion pictures, he is able to demonstrate that an Asian man can excel in an industry that is essentially an American product. Woo's unique style of directing transcends all boundaries, making him not only a great Asian director but one of the greatest directors of all time. This "Hollywood Clout" enables John Woo to absolute creative control of his projects. Therefore, he is better able to present a more authentic characterization of Asians on the screen. This authentic portrayal will be realized in Hollywood when Woo once again collaborates with his favorite actor, Chow Yun Fat.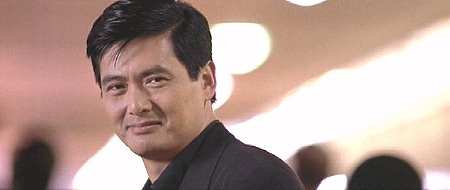 "The coolest actor in the world"11 (Fig. 2) Appropriate title for self-described acting machine, Chow Yun Fat. He started his acting career in Hong Kong television in the mid-70s, starring in his first role as a young man in a television drama called Hotel. This resulted in a huge fan following. His popularity increased when he played a crime boss in the 1980 series Shanghai Bund. In 1986 audiences hailed A Better Tomorrow, which began Chow Yun Fat's extremely mutually beneficial relationship between director John Woo. Chow soon became Woo's perfect cinematic alter ego, as did Mifune for Kurosawa, as did Delon for Melville. By far the most sought after actor in the 1980s , demand for Chow Yun Fat was overwhelming, "My record was three days working without sleep! I know that if I don't slow down I'll die."12
In repose, Chow's casual magnetism recalls the the glory days of Robert Mitchum, Steve McQueen or Ken Takakura- great movie actors who can rivet your attention while seeming to do almost nothing.13
Chow Yun Fat emerged in Hollywood with his first American film, The Replacement Killers. He plays hitman John Lee. Lee owns a debt to the powerful drug lord, Mr. Wei. When Lee can't pull the trigger on an assignment to kill a child, Wei sends in the replacement killers to finish the job. Facing the reality that Wei will harm his family in China, Lee seeks out a paper forger to help get a false passport. Then Lee must confront Wei himself.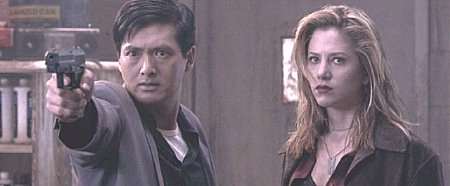 The Replacement Killers, direct by American Antoine Fuqua and produced by long time collaborator John Woo, showcased Chow Yun Fat's ability in action films. Many of the action shoot out sequences harked back to the "golden days" of the John Woo's Hong Kong days. High on style and image and low on character development, The Replacement Killers, gave many Americans their first taste of Hong Kong style or John Woo style action.
Chow's second U.S. film, finally gave the American audiences an opportunity to see Chow Yun Fat portray a complex and compelling character. The story is set in New York's Chinatown with Chow Yun Fat playing Nick Chen,The first Chinese born immigrant on the police force. Chen has to try to contain a gang war between the Chinese Triads and a new gang called the Fukienese dragons.14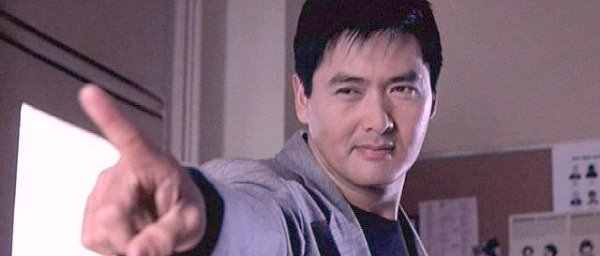 Chow Yun Fat on his character in The Corruptor, "Nick Chen is Totally different characters, It was very interesting opportunity to play him. He has shades of gray, but when he's back at the police station, he's a good cop. He's honest, he has his dignity. He is very demanding, and very interesting."15
Chow Yun Fat's charismatic portrayal of Nick Chen saves The Corruptor from being a total failure. The Corruptor is burdened with demeaning Asian stereotypes of gangsters, prostitutes, bedraggled illegal immigrants. Chow Yun Fat brought to life a character who was the exact opposite of the character he played in The Replacement Killers. Nick Chen was not the super cool, super suave hitman, he was a charismatic multi-faceted character faced with moral issues.
Chow Yun Fat brings a positive Asian image to the motion picture screens. His dynamic screen presence in such films such as The Corruptor help to redefine the modern Asian image. The characters that Chow Yun Fat portrays are not the typical Hollywood stereotype of the "Yellow Peril". Instead, he is a member of the most elite group of actors, leading men. He is able to carry films on the basis of his acting ability and magnetic persona. Chow Yun Fat proves that Asians are capable of being truly gifted actors.
There is no doubt that John Woo and Chow Yun Fat are two most influential Asians in the motion picture industry. The body of work by these two men more than exemplifies their talent and drive. Now with the migration of John Woo and Chow Yun Fat to Hollywood in the recent years, the a new image of Asians will be brought forth. Ever since the beginning of the motion picture industry Asians and Asian Americans have been waiting for "A Better Tomorrow", a day when talents Asians are portrayed with respect and dignity. Now with of the introduction of director John Woo and actor Chow Yun Fat, the wait is over. "Tomorrow" is today.
1Logan, Bey. Hong Kong Action Cinema. P 115 back
2Logan, Bey. Hong Kong Action Cinema. P 116back
3Hammond, Stefan, and M. Wilkins. Sex and Zen & A Bullet in the Head. The Esstential Guide to Hong Kong's Mind-Bending Films. P 36back
4A Better Tomorrow. 1986 Written and directed by John Woo.back
5The Killer. Magnum Entertainment, 1989. Direct by John Woo.back
6Logan, Bey. Hong Kong Action Cinema. P 123.back
7Hard Boiled. Golden Princess Film Production Limited, 1992. Directed by John Woo.back
8Hard Target. Universal Pictures, 1993. Directed by John Woo.back
9Logan, Bey. Hong Kong Action Cinema. P 136.back
10Broken Arrow Original Motion Picture Soundtrack. Milan Entertainment 1996.back
11Hammond, Stefan, and M. Wilkins. Sex and Zen & A Bullet in the Head. The Esstential Guide to Hong Kong's Mind-Bending Films. P 44.back
12Logan, Bey. Hong Kong Action Cinema. P 117.back
13Hammond, Stefan, and M. Wilkins. Sex and Zen & A Bullet in the Head. The Esstential Guide to Hong Kong's Mind-Bending Films. P 44back
14The Corruptor. New Line Cinema, 1999. Directed by James Foley.back
15Chow Yun Fat Interview. Available from http://corruptor.com; Internet.back